You can grow plenty of Christmas plants outside this year! Some you can move indoors during the holiday season, while others look stunning in the snow. You can choose between holly bushes, ivy, mistletoe, and various flowers- like poinsettias and amaryllis. 
Christmas plants look gorgeous in gardens year-round, so you can start growing them now in preparation for the holiday season. You can even take some of these plants and turn them into wreaths and other decors to spruce up your home! Overall, gardeners have plenty of options.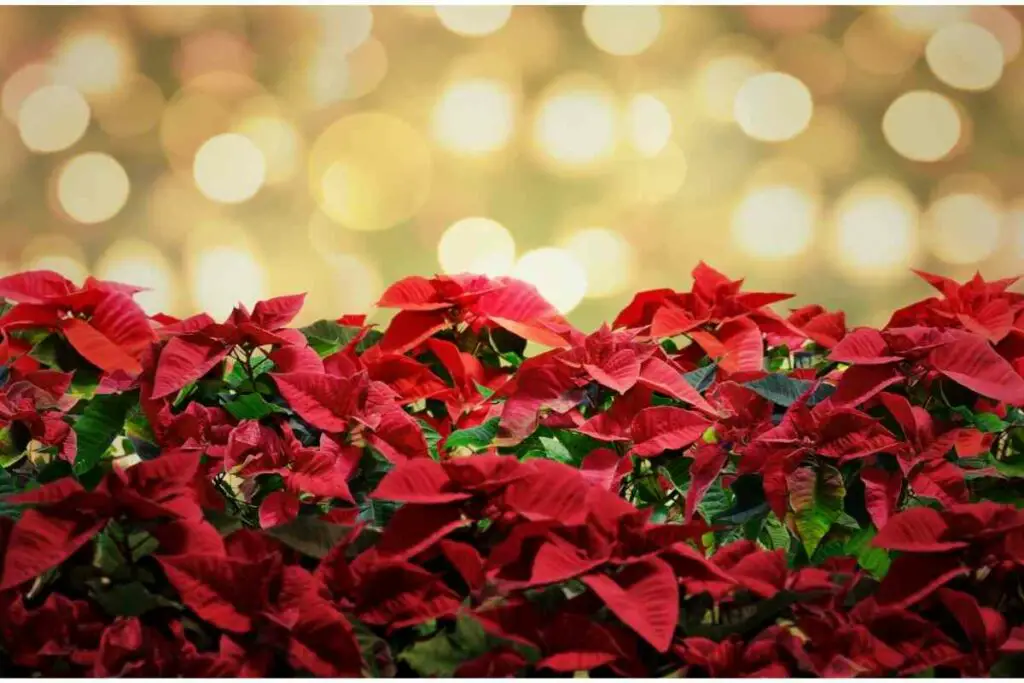 What Are the Most Beautiful Outdoor Christmas Plants? 
The best Christmas plants can withstand frigid weather while looking vibrant. Plus, the color red is a staple for winter gardens! You'll notice that many Christmas plants have petals and berries with a rich scarlet color. 
These Christmas plants are also December bloomers, meaning they're the most beautiful during the holiday season. That way, your winter garden won't be so barren this winter.  
If you want to choose the most beautiful outdoor Christmas plants, these are the ten best options: 
1. Poinsettia 
Since it's one of the most popular winter flowers today, the poinsettia had to top this list. These plants produce bright red petals during December, which look fantastic in any winter garden. They're a traditional Christmas plant, so you'll find many of them at your local garden shop. 
The flower first became associated with Christmas in 1600s Mexico. Priests often would use the red flowers to decorate their nativity scenes. Today, the poinsettia is still a popular holiday decoration due to its scarlet petals. 
However, you can also find them in yellows, pinks, and white! If you decide to grow them, make sure you don't overwater them. This plant only needs water when the soil is parched and is easy to care for. 
2. Amaryllis 
The amaryllis is another beautiful Christmas flower. The trumpet-shaped petals come in vivid reds and calming whites, perfect for holiday gardens. 
It takes about six weeks to get blooms from amaryllis bulbs, so you'll want to plant them in November. Doing so ensures you have beautiful flowers by Christmas day! They require regular watering, more often than poinsettias. 
After the blooms start to wilt, you'll want to cut the stalk a few inches above the bulb. Leaving the bulb in the ground allows the flower to bloom next Christmas. 
3. Holly Bushes 
Holly bushes thrive in the winter and add a beautiful "pop" of color against the white snow. Plus, you can use the cut branches to create wreaths and other DIY decorations. 
The shrub will bloom when left in partial shade. It forms small white flowers, which turn into bright red berries on the female plant. Because of this, you'll also want to have some male holly bushes nearby. 
The holly leaves and berries are classic Christmas imagery. By adding a few of these shrubs to your garden, you'll have the perfect festive backdrop! They'll bloom every year around the same time too.
4. Ivy 
Ivy is another beautiful plant that you can grow outdoors. They're an intense green and spread over garden walls. You can also plant ivy in hanging baskets. 
You can use the green ivy to complement any red plants you have in your winter garden. These color pairings look festive, and the green makes your reds look even brighter! 
English ivy won't spread as quickly as other species, making it easier to control. You should plant it in the fall and give it plenty of nitrogen-rich fertilizer to achieve a beautiful deep green color by winter. 
5. Mistletoe 
If you decide to grow your mistletoe, you need to ensure that it doesn't spread. Mistletoe is parasitic on trees, taking over the branches quickly. 
However, mistletoe is still a beautiful winter plant. You can clip the branch and hang up the plant above a doorway in the house.  
According to tradition, any two people under the mistletoe at the same time should kiss, or they'll have bad luck!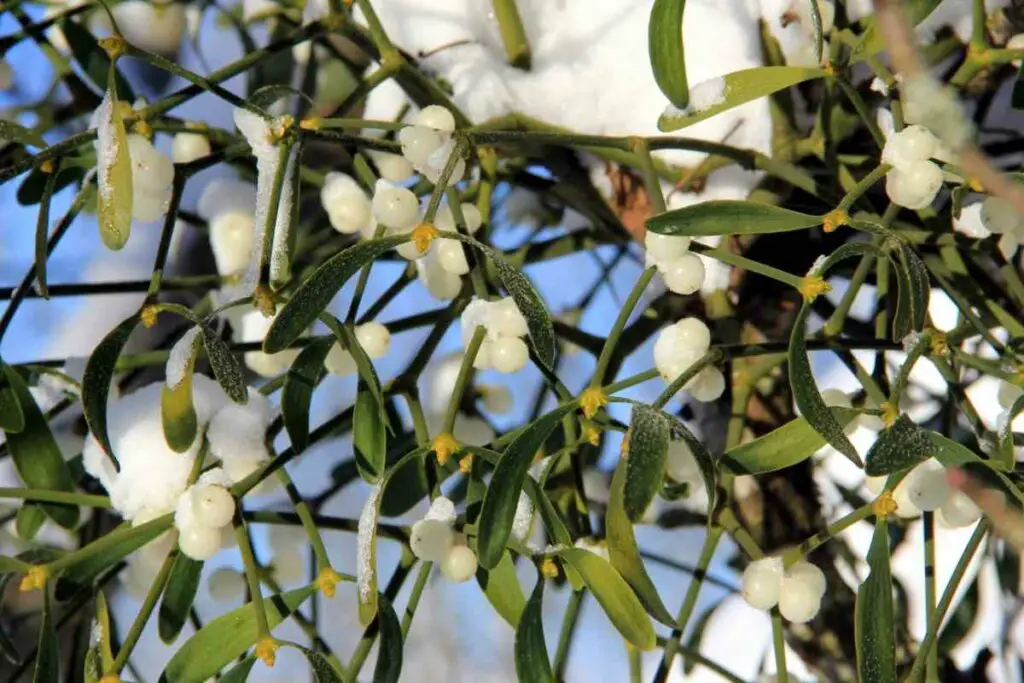 6. Blue Spruce 
The blue spruce is another easy-to-grow yet stunning holiday plant. You can also string up some outdoor lights around it or take branches as garland decorations. 
Growing blue spruce takes time and patience, but it's very worthwhile! These trees look lovely in any winter landscape and look great during the rest of the year too. 
7. Christmas Cactus 
The Christmas cactus has plenty of greens and reds, making it a popular holiday plant. The cactus grows best in indirect sunlight and needs about 13 hours of darkness during November. 
If you can do that, you're sure to get striking scarlet blooms on your cactus when Christmas comes around! 
8. Juniper 
Juniper is a shrub that has plenty of dark green needles covering it. These stems often look like the ones you'd find on a Christmas tree. 
The juniper bush also comes with blue or purple berries that stand out in a Christmas setting. You'll want to make sure that they have plenty of room to grow since they shoot up very fast. 
9. Paperwhites 
Paperwhites can grow outside beautifully, then bloom inside your home during the holiday season. They also only take about five weeks to bloom, and the flowers come with a beautiful scent. 
These blooms look beautiful as a Christmas decoration, especially when placed next to bright red poinsettias or amaryllis.  
10. Rosemary 
Finally, rosemary is an herb that looks a lot like a tiny Christmas tree. They have a strong but pleasant scent prevalent in many holiday recipes. You can grow the herbs outside or even in the kitchen for easy access while cooking. 
How Should I Decorate a Christmas Garden? 
When arranging your winter garden, you'll want to include plenty of Christmas items for the full effect. Consider adding pinecones, red berries, white branches, and even outdoor Christmas lights.  
What you decide to add to your garden will be up to you. You can always experiment with the decorations you have at home until your winter garden looks just right!