Yes. Although, it isn't recommended. 
You will never find pickleball played professionally on grass. This is because pickleball requires you to be able to predict where a ball is bouncing. You can't really do that on grass, but we will discuss that in a bit more depth soon. 
Of course, if you are playing in the comfort of your own home and just want to have a game that you can play for fun, then you can play pickleball on grass. It is not going to be the greatest game of your life, but you are going to have a massive smile on your face! 
There are some people that are trying to get official grass pickleball leagues up and running, but we doubt they are going to ever have the same amount of traction as the games that are played on hard surfaces.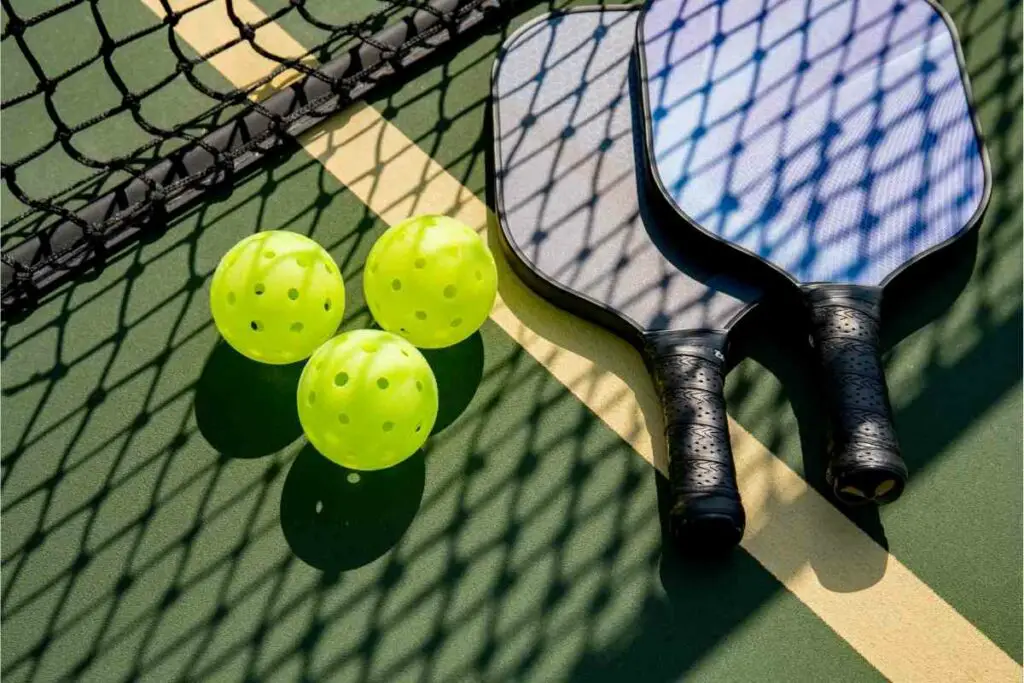 What I Need To Get Started?
If you've never played pickleball you're probably wondering what you'll need to get started? Well, no worries because we've got it all here for you.
You will need:
Check out all products above for the best experience.
What Are The Disadvantages Of Playing Pickleball On Grass? 
There are several reasons why it isn't generally recommended that you play on grass unless you really need to. 
The Movement Of The Ball 
Pickleball is a game that is all about bouncing a ball. You need to be able to bounce a ball properly. You need to be able to predict where that ball is heading. 
Pickleball works well on hard surfaces because the ball bounces incredibly well on a hard surface. The game is predictable. 
Pickleball doesn't work well on a grass surface. The grass will absorb some of the momentum of the ball. It will completely slow it down. This means that the game is slowed down. 
Of course, because that ball is now going to be moving in a way that is a whole lot more unpredictable, it means that the game becomes less competitive.
It becomes a game of luck more than anything. All one person needs to do is hit a dodgy piece of grass, and they could be handing the advantage to their opponent.  
Can't Play If The Grass Is Wet 
If the grass is wet, the ball will barely be able to bounce. It will quickly become covered in water which, of course, makes it even harder to play.
Not to mention the fact that you are now hitting a ball that has been caked in mud. 
If you are able to put together a game where the grass is wet, then the chances of an injury occurring will go up. After all, wet grass is difficult to run about on.
You will be slipping and sliding about everywhere. Even if you do play the game, it can't be that enjoyable having to watch your footing.  
Surface More Likely To Be Uneven  
A hard surface is a good playing surface because the sides are going to be fairly even. If there are any issues with the court, then they can be easily seen and dealt with. 
This isn't the case if you are playing on grass. There could be softer parts. Harder parts. Dips. Hills. The works. Some of this may be noticeable, and in other cases, it won't be. 
As we said previously, this is something that is going to be impacting the way in which the ball moves.
However, it will also put one player at an advantage over another. After all, the sides are completely different from one another.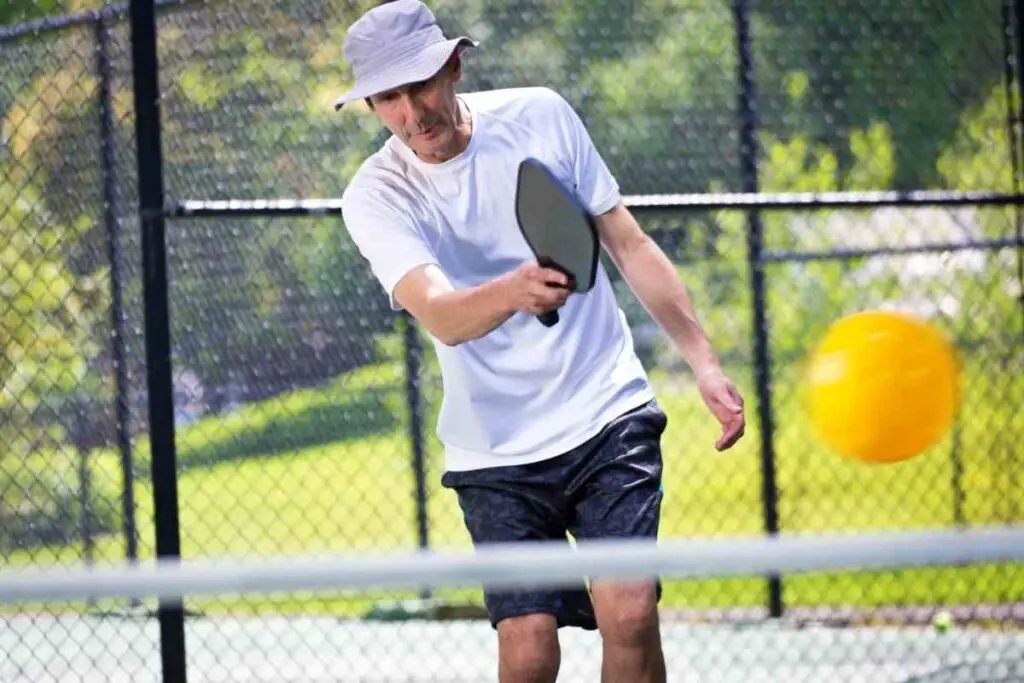 How Do You Prepare a Grass Surface For Pickleball? 
If you are going to be playing on grass, then there are a few things that you will probably want to do to prepare. 
Cut The Grass 
While you are never going to be able to eliminate the unpredictability of bouncing completely, you will be able to reduce it to the point where it has less of an impact on the game. 
The best way to do this is to cut the grass as short as you can. You don't want there to be any tufts of grass. A perfectly mowed lawn will absorb less of the momentum from the ball. 
Of course, this can be difficult to do if you are playing a quick pick-up game of pickleball. So, just choose the part of the grass that seems to have the lowest amount of growth. 
Mark The Court Lines 
Pickleball needs a court. This is a good reason why people play on hard surfaces. It is easy to mark out the court with chalk. Of course, you can't do that with grass. 
What you can do, however, is pick up some spray paint designed specifically for grass.
This will allow you to easily mark lines without damaging your beautiful lawn. The spray paint will eventually disappear, so you don't even have to worry about having a permanent pickleball court marked out on your lawn!  
Another alternative is Eco Court Markers, this product is moveable and reusable. This product doesn't have to be reapplied and can just be put away after every use.
Prices pulled from the Amazon Product Advertising API on:
Product prices and availability are accurate as of the date/time indicated and are subject to change. Any price and availability information displayed on [relevant Amazon Site(s), as applicable] at the time of purchase will apply to the purchase of this product.
Should You Use a Special Ball If You Are Playing Pickleball On Grass? 
If you can, yes. 
While you can probably use a standard pickleball on grass, the whole idea is to increase the predictability of ball movement. A standard pickleball won't work here. 
We recommend that you try and get your hands on a rubber ball. In our experience, these balls work a little bit better on grass. They have a bit more of a 'bounce' to them. 
When you are looking for a rubber ball, try and ensure that you get it as close to the weight and size of a standard pickleball as you can.
For Example, squash balls. These balls are rubber, lightweight but have much more bounce off soft surfaces compared to a pickleball.
After all, you want the game to actually feel like you are playing a proper game of pickleball, right?