Choosing the right nozzle is more important than choosing the right hose. After all, your garden hose is able to perform so much without the right attachments. The nozzle is how you control the intensity of how much water is coming out of the hose. They are also great for helping you cut down on the water bills as well. 
If you need to invest in a new garden hose nozzle, you've come to the right page. Today, we're going to discuss 7 of the most popular garden hose nozzles and sprays. Keep reading to find out what they are.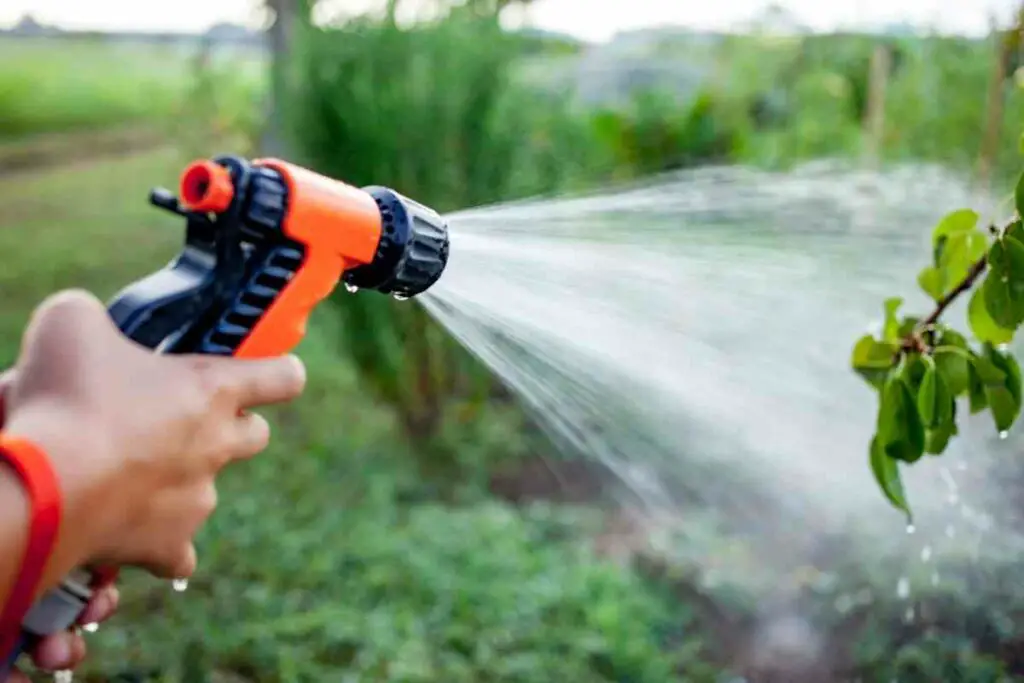 Choosing The Right Nozzle For Your Garden Hose 
Before we begin discussing some of the most popular nozzles that gardeners prefer, we thought we should cover what we look for when choosing a nozzle.
One great thing about garden hose nozzles is that they are inexpensive. You can likely find a high-quality nozzle with several settings that will be in your price range. 
When we're buying a new nozzle, these are some of the things we believe are important to consider: 
Type of nozzle (grip, dial, or fireman) 
The material it is made of (metal is always better than plastic) 
Pressure level 
Number of spray settings (and which ones are available) 
Durability 
Now that you're aware of what some of the key features are when looking for a good garden hose nozzle, let's take a look at what the most popular nozzles and sprays are. 
1: Gilmour Pistol Grip Garden Hose Nozzle 
It's hard to find a better nozzle than the Gilmour Pistol Grip Garden Hose Nozzle. This nozzle is very basic at first glance, however, it has become one of the top choices of gardeners across the country because it's easy to use and built to last a lifetime.
Once you buy this garden hose nozzle, you won't need to worry about getting another one. 
Surprisingly, this hose nozzle is very affordable. This could be because the nozzle lacks any extra features, that many modern spray nozzles come with. It is a very simple all-metal pistol-grip design.  
However, with this Gilmour nozzle, you will have control over the force of water coming out.
There is a dial that you can use to adjust the amount of force coming through. This way you can have a light spray for gardening, and a stronger spray for washing the car. 
2: Gilmour Metal Bubbler 
There's one more great Gilmour brand nozzle that we need to mention today. If your main reason for investing in a spray nozzle is to tend the garden, then you may be interested in the Gilmour Metal Bubbler.
This is the best gentle nozzle on the market. The lighter stream allows people to water tender garden patches without disrupting the plants. 
Many plants are not able to withstand the heavy pressure and flow that most spray nozzles put out. They are too fast and hard for some of these delicate flowers, herbs, and plants.
This is why the slower pace of the Gilmour Metal Bubble nozzle is often a better choice. This nozzle is a favorite because it will lightly aim the water towards the plant's roots. 
3: Dramm 9-Pattern Revolver Garden Hose Nozzle 
If you plan to use the same nozzle for everything you need to do, then you should be looking towards getting one with several patterns.
The Dramm 9-pattern revolver is one of the most heavy-duty nozzles on the market that has 9 different settings. This allows people to get the most efficiency from their hose nozzle. 
A lot of customers were happy with the Dramm 9-pattern revolver because it has a very comfortable insulated grip that is made from quality rubber.
Another great feature is the wire-level lock, which allows the nozzle to keep the flow's positions without causing the user hand strain.
4: Rocky Mountain Goods Fan Spray Nozzle 
When you have a larger area to water, a fan nozzle is one of the best types to consider. This will allow you to water a larger vegetable garden or a wide front lawn in a shorter amount of time.
It doesn't get much better than the Rocky Mountain Goods fan spray nozzle when you're looking for this feature. 
Many customers prefer this fan spray nozzle because it's a very straightforward nozzle. There are no extra features that they need to figure out.
They simply attach the nozzle and they are good to go. However, they will be able to use the valve inside the nozzle to adjust the pressure of the flow. 
5: Gardena Garden Hose Nozzle 
The Gardena Garden Hose Nozzle may be one of the pricier nozzles on our list, but many customers who have reviewed this item believe it's well worth the investment.
One of the top features that make this garden hose nozzle appealing is that it's designed to withstand frost. You won't have to worry about the product not performing as well if it encounters frost. 
This is a very comfortable nozzle to use, that's easy to grip. It comes with 5 different spray settings, making it easier to complete all your watering tasks. 
6: Green Mount Watering Wand 
The Green Mount Watering Wand is a great nozzle to have for people who have trouble bending to reach certain areas of their garden bed.
Since the nozzle is on an extension, it's also easier for people to reach hanging baskets that aren't in the most accessible locations.  
One of the great things about using a watering wand is that this nozzle is very lightweight. People won't strain their wrists or arms trying to reach difficult areas.
It also comes with a slip-proof grip, making it easier to hold on to. 
7: Bon Aire Original Garden Hose Nozzle 
This lightweight nozzle is designed similar to a fireman sprayer.
It is made from aluminum. fiberglass, and stainless steel, ensuring a quality nozzle. There are 5 different spray settings and a 2-way shut-off feature to make this nozzle easier to work with.
This commercial-grade nozzle doesn't let users down. 
Which Hose Nozzel Or Spray Is Best?
It's hard to find a better nozzle than the Gilmour Pistol Grip Garden Hose Nozzle and is our recommendation.
This nozzle is very basic at first glance, however, it has become one of the top choices of gardeners across the country because it's easy to use and built to last a lifetime.