Metal sheds need a base. Without one, the soil underneath will move, causing the shed to slide with it over time. Eventually, the shed's door won't open properly. Plus, most sheds don't come with a floor- the base will likely be your floor. 
Overall, you should set up a flat and level base before building your metal shed. Having one will make your shed last longer and make it more durable. If you don't want your shed to collapse, it's best to add a base sooner than later. 
Is Metal the best material for sheds? Find out Pros and Cons here…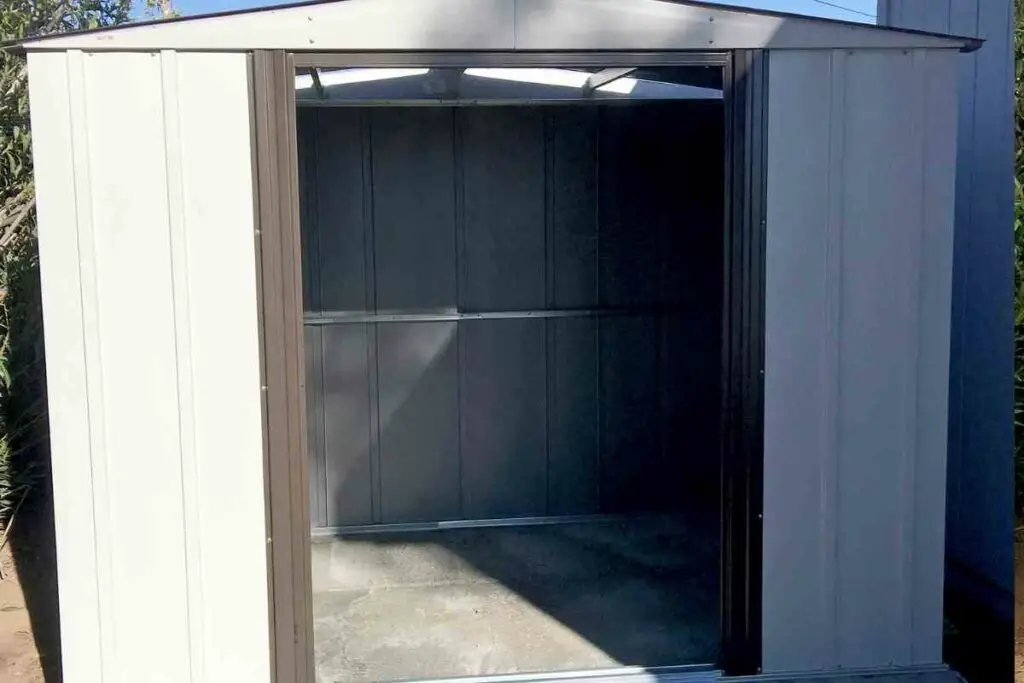 Why Does My Shed Need a Base? 
All sheds need to have a base, whether wood or metal. If you set up the shed directly on the ground, the soil beneath it will erode over time. Eventually, your shed could shift, making it impossible to open the door. 
Your shed could also tip over or collapse on itself! If that happens, it would be costly to remove and start over. 
The base also helps to support the shed's weight, so it doesn't sink into the ground when it rains. The base helps with air circulation and keeps the inside of the structure dry since water is less likely to leak in. 
Finally, your base will make the ground level for the shed. If you try to build directly on the ground, you could easily run into problems with the walls lining up. Plus, your floor wouldn't be very level without one.
What Are My Options For a Base? 
When building a metal shed, you have many more options for a base than you might realize. Concrete slabs are the most common choice. You can place the shed directly on top, and the concrete is very sturdy. 
However, you can also make a wooden frame as a base. The bearers of the shed rest on it, while the frame has spikes that penetrate the ground. When you make it level, wooden shed bases are another great option. You will need to have a metal shed with a floor already, though. 
Plastic shed bases are also another less common choice. Their design can assist with drainage, and the base is even easy to move.  
With a metal shed, your best choice would probably be a base made of concrete. Although it can be messy to install, it gives you the best support out of all these options. 
It's also the most permanent option. If you know you'll want to move the shed in the future; then a plastic base would be best for you. 
How Can I Make a Metal Shed Base? 
Pouring concrete isn't as challenging as you might think! Plenty of people tackles building their own shed bases as a DIY project. First, you'll need to get the measurements of your new shed. 
Clean out the area next. You don't want any debris on the ground- clear away trees, plants, branches, and rocks. 
You'll also need to make sure you call 811 before you dig! This number connects you with utility groups who know where the lines run on your property. You must call three days before you want to dig. 
Now you can mark the location of your shed with spray paint. You want the measurements to be as accurate as possible. 
Dig Out the Foundation 
You want to dig at least six inches into the earth. As you dig, make sure that the soil stays level. Using stakes with a string between them will help you see any inclines or drops. 
Add in Gravel and Bars 
Before adding gravel, make sure to set up wooden boards as a border around the hole. Gravel is a must since it helps with drainage and prevents erosion. You want a few inches of gravel while still allowing the final slab to be four inches deep. 
The reinforcing bars come next. These bars are made of steel and give additional support to the concrete. You should have several bars connected with ties when finished. 
Mix and Pour Your Concrete 
Finally, you'll want to mix and pour the concrete. You may need to rent a mixer from a local company first. Keep in mind that your slab will take a lot of concrete. A 12 in. x 8 in. base will take about eighty pounds worth of material to fill. 
Let Your Concrete Cure 
If you let the concrete cure fully, it will be extremely strong. You want it to dry slowly for the best bond, so make sure to mist the slab with water occasionally. It should take several days to dry the whole way through. 
You want to check that the concrete is level during every step of the process for the best results!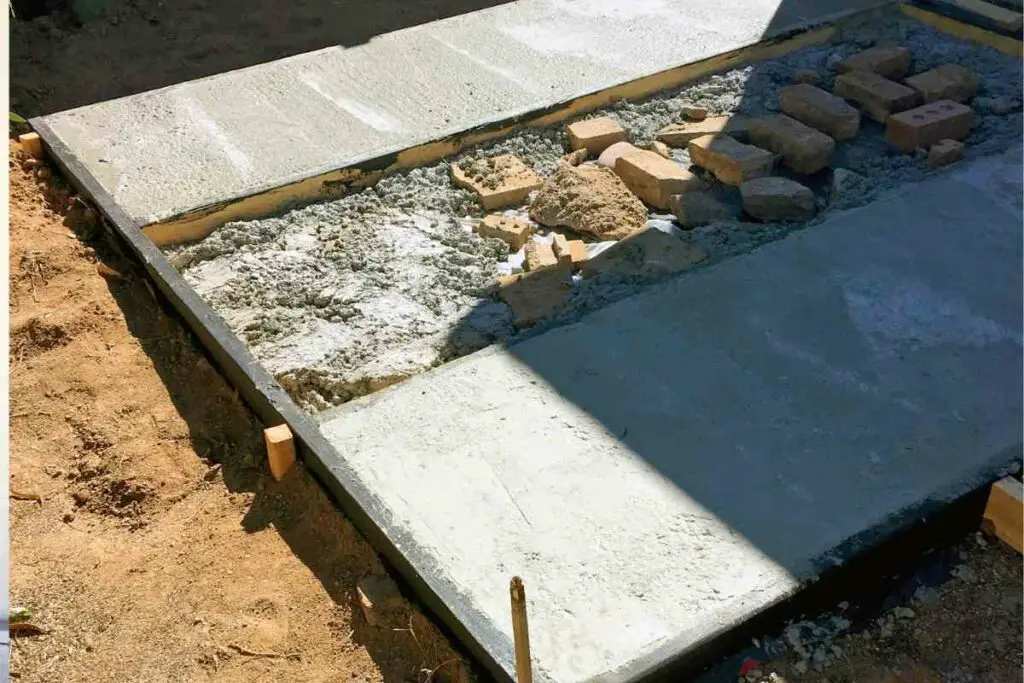 What Happens to Sheds Without a Foundation? 
Sheds that don't have a foundation can let in a lot of water, leading to condensation on the inside. Eventually, all that moisture can cause rust- ruining your shed's structural integrity.  
Plus, depending on what you store in the shed, the water could damage it. The moisture can rust metal tools, rot wood, and even cause mold to grow on your belongings. It's best not to risk it! 
For a foundation, you can choose between: 
Deck blocks 
Skid foundation 
Timber frames 
Concrete pavers 
Concrete blocks 
Gravel pads 
Concrete piers 
Concrete slabs 
Plastic grids 
Wooden frames 
With all of these foundation options, you're sure to find one that suits your shed- so don't skip on including one! 
Do Store Bought Metal Sheds Come With Bases?
Most commonly Metal sheds come with a metal base, as it is part of the structure. Cheaper designs may not come with bases but it's not the end of the world. Bases can be made to fit any shed size. Follow our guide above.
We can't recommend which shed you should buy because it all depends on what you're looking for and the size. On the other hand, we can direct you to good brands.
"EZEE" is an amazing company with a wide variety of sheds. Here's one below.
Prices pulled from the Amazon Product Advertising API on:
Product prices and availability are accurate as of the date/time indicated and are subject to change. Any price and availability information displayed on [relevant Amazon Site(s), as applicable] at the time of purchase will apply to the purchase of this product.
Does My Shed Base Need To Be Larger Than The Shed? 
You should make the base for your metal shed a bit larger than the bottom of the shed. Doing so gives you a better, more stable foundation for the structure. 
If you make the shed and the base the same size, there's not enough space for you to bolt the shed to the concrete. The drill could crack through the concrete, ruining your base.  
Overall, it's a good idea to make the base slightly larger for the structural integrity of your new shed.