What material is best for your shed? The "best" material is subjective depending on what's your priority. For example, wood is the best material if you want something easily customizable, while metal is the best if cost-effectiveness is what you want the most. Similarly, plastic becomes the right material for you if you want something durable and resistant to adverse weather. 
Read below to know more about the features of each material to help you decide on which to go for while purchasing a shed.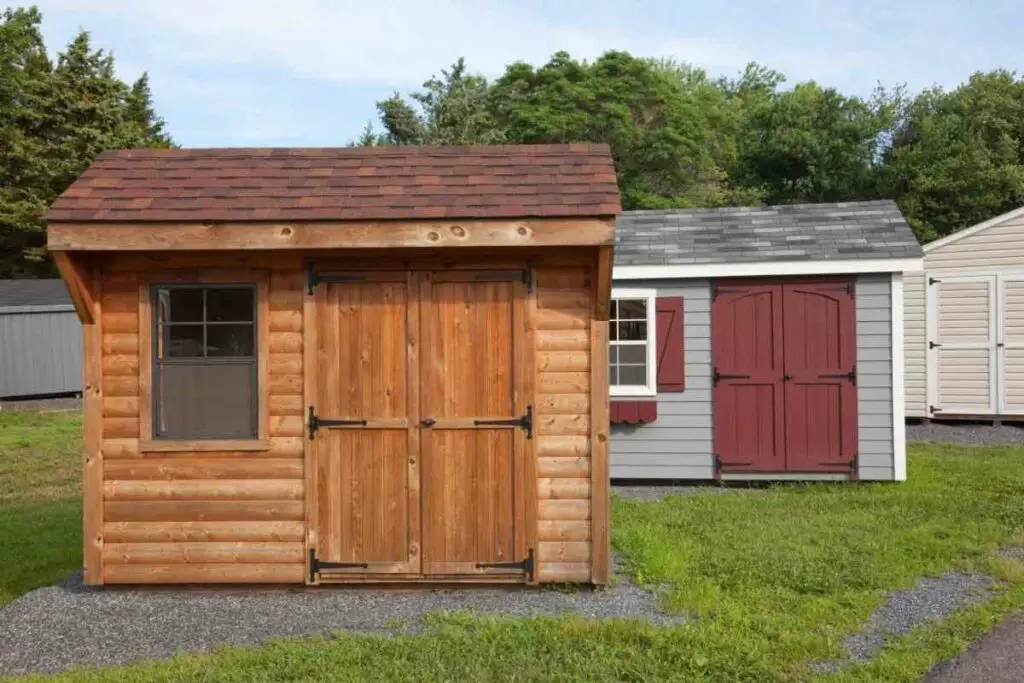 A Breakdown on Wooden Sheds 
 There are many amazing brands out there to choose from when deciding which shed is right for you. Power Sheds is a British company that specializes in manufacturing wooden sheds with over 38 years of experience.  
This company can help design and manufacture your perfect shed to fit any size garden. Check out their range of products. CLICK HERE… 
Our Recommendation is Powers Apex Shed Collection, as they have high-grade premium quality Scandinavian tongue and groove timber throughout including roof and floor. Toughened safety glass as standard with PVC sills.
 Pro 1 -Versatility of Wooden Sheds
Wood is one of the most conventional materials to build sheds and is popular for its versatility in terms of customization especially. You can easily add cabinets, shelves, cupolas, etc. to the walls without having to worry too much about the weight balance. 
  
Apart from that, a wooden shed can be easily painted to any color or pattern you want to aesthetically merge with the rest of the house. Even if you've painted it before, it can be repainted and given a make-over whenever you wish which makes it very versatile. 
Pro 2 – A Multipurpose Shed 
Wooden sheds are pretty multipurpose in the sense that they can be used for multiple scenarios – they can be used as children's playhouses, storage spaces, workshops and so much more. You can add or remove design elements at home with a little bit of woodworking knowledge and transform your shed for any scenario you want. 
Pro 3 – Strength and Durability 
Wooden sheds are also strong in the sense that they can store a lot of objects without you having to worry about weight balance. They are also very durable and can stand the harshest of winds. This durability and strength come from the fact that most wooden sheds use composite wood to add strength and durability to natural wood. 
| | |
| --- | --- |
| Con 1 – Requires a lot of Maintenance  | As compared to other materials such as plastic, concrete, or metal, wooden sheds require quite a lot of maintenance as the paint can crack over time, leaving the wood exposed to elements. Wood is also vulnerable to termites which, if left unchecked, can cause the wooden structure to rot over time.  |
| Con 2 – Pricier than Other Materials  | Wood is an expensive option. Even a small wooden shed can cost you around $900 – $2000. This, in addition to the regular maintenance costs, can be an unaffordable option for some people.  |
Is Wood the Best Material for my Shed? 
It is the best, if… 
You are someone who's passionate about DIY 
You're interested in changing things in your home every now and then 
You're looking for something multifunctional. 
A Breakdown on Metal Sheds 
Metal sheds are great storage units for any garden and can come in many shapes and sizes. Its strong material keeps products safe and secure but there are some negatives. Check out our table below.  
Outsunny is an American manufacturing company for patio furniture, gazebos, canopy tent, awning, greenhouse, and outdoor metal sheds.  
We recommend Outsunny as their products such as the one below are made from sturdy and durable color coated steel plate and Polypropylene components, it has protective film on metal panels for long-term use.  
Their sliding doors for convenient opening and closing, saving even more space. 
| | |
| --- | --- |
| Pro 1 – The Most Inexpensive of All  | Metal sheds are the most cost-effective option especially for people who are just looking for a storage space to build and are not concerned about aesthetics or other factors. They're not just inexpensive to build, they also have little to no maintenance costs, unlike wooden sheds. They are not vulnerable to termites and can be expected to last a long time.  |
| Pro 2 – Durability in Extreme Weather Conditions  | Unlike wooden sheds, metal sheds are durable in terms of the fact that they won't suffer from heavy damage in extreme cold or heat.  |
| | |
| --- | --- |
| Con 1 – Lack of Aesthetical Beauty  | Aesthetical tastes are subjective, but most people do not like the plain look of metal sheds since it may not merge with the aesthetics of the rest of the house. Metal sheds can be painted but beyond that, there are limited options for making them more aesthetic.  |
| Con 2 – Lack of Customizability  | Wooden sheds can be easily customized in a very DIY way if you have a little bit of woodworking knowledge. This isn't the case with metal sheds though, as the average homeowner may not have the complex technical skill, knowledge, and equipment on how to customize metal sheds.  |
| Con 3 – Issue of Weight Support  | Metal sheds are durable but not sturdy. They can be flimsy especially if you live in an area with heavy winds, so make sure to purchase an anchoring kit to solve the problem.  |
| Con 4 – Rusting and Corrosion  | Metal sheds rust over time, which can not only weaken their overall structure but also worsen their aesthetic appearance.  |
Is Metal the Best Material For My Shed? 
It is the best, if… 
You just want a shed that 'gets the job done.' 
You're running on a budget. 
You don't live in a place with heavy winds.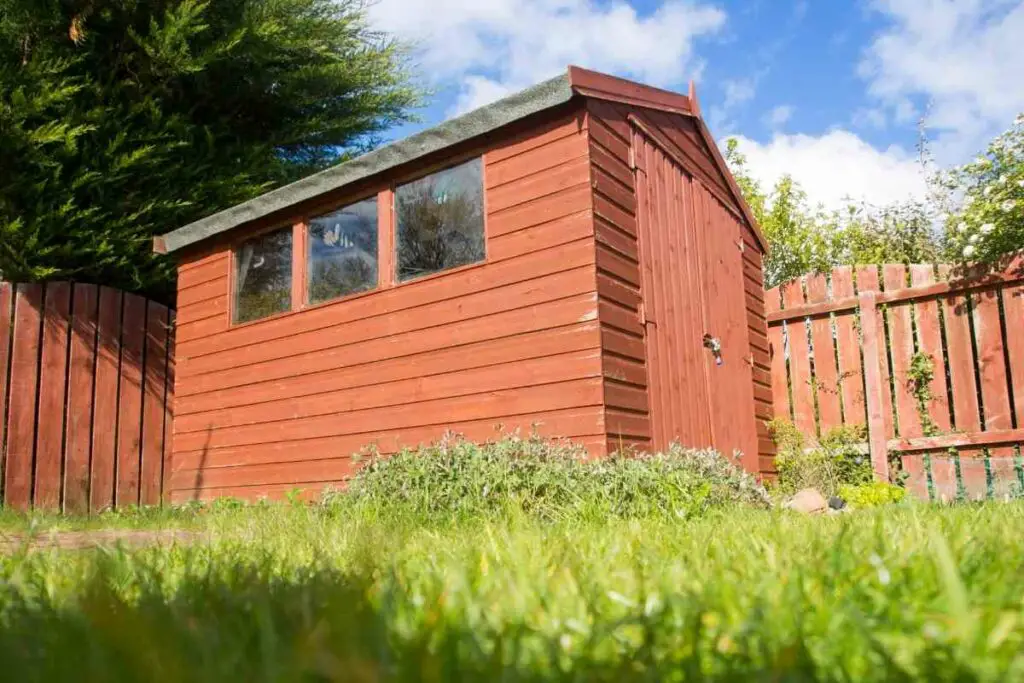 A Breakdown on Plastic Sheds 
Plastic Sheds are high quality, and easy to manufacture to the shape and size of your garden. The material can come in a range of colors. 
Palram Canopia is one of the leading companies in garden products as specializes in plastic garden sheds. Their amazing products are known all around the US.  
Our favorite design from Palram Conopia is their skylight design. As they have maintenance-free virtually unbreakable polycarbonate panels. Their tinted Light transmitting roof allows natural light inside the shed. They also provide front and back air vents, anti-slip floor with a foundation anchoring option.  
All these features are included in the product below click the box below for more information.  
| | |
| --- | --- |
| Pro 1 – Stain-resistant and Durable  | Plastic sheds are constructed from durable, high-quality materials such as vinyl or resin which makes them resistant to cracking, fading, insects, and so on.  |
| Pro 2 – Easy to Build  | Both wooden and metal sheds require some technical skill to build, which isn't in the case of plastic sheds. Most resin shed kits require you very little tools and experience to build yourself.  |
| Pro 3 – Aesthetic Simplicity  | Especially if you want to go for a minimalistic aesthetic and a plain color for your shed, plastic sheds are the way to go. You can even have wood textures simulated on them if you want a little bit of extra oomph.  |
| | |
| --- | --- |
| Con 1 – Lack of Customizability  | They're more customizable than metal sheds, but still don't have the room for a lot of customizability. They cannot be shingled to aesthetically merge with the house and it's difficult to add or remove elements to them without drilling holes on their surface.  |
| Con 2 – Issue of Weight Support  | It's difficult to add vertical elements such as shelves, cabinets, etc. unlike wooden sheds, so you have an issue of weight support. They may be durable, but cannot support a lot of vertical weight.  |
Is Plastic the Best Material for My Shed? 
It is the best, if… 
You have a minimalistic aesthetic and love solid colors. 
You want something easy to build and maintain. 
You want something more weather-resistant. 
Final Thoughts
In the end, the decision is all yours, but here is just a guide to help you choose which is right for you.
The companies we recommend checking out, as they specialize in specific materials.
Plastic Sheds – Palram Conopia
Metal Sheds – Outsunny
Wooden Sheds – Power