Pallets are a great asset in any garden as they can be created into many different ideas from Pallet Garden Sofas to Growing Lettuce in Pallet.  
Here's a couple of ideas you can use in your garden.
Why Use Pallets In The Garden? 
Pallets are a great way to bring structure to your garden. They are inexpensive, fun, and flexible, and they save a huge amount of time because you won't need to do a lot of sawing to make them work for you. They should also last well in outdoor conditions. 
You might be able to get pallets for free with deliveries or from local businesses, or you may find people giving them away for free online. Even if you end up having to buy pallets, they are usually cheap and readily available, so they're perfect for use in the garden.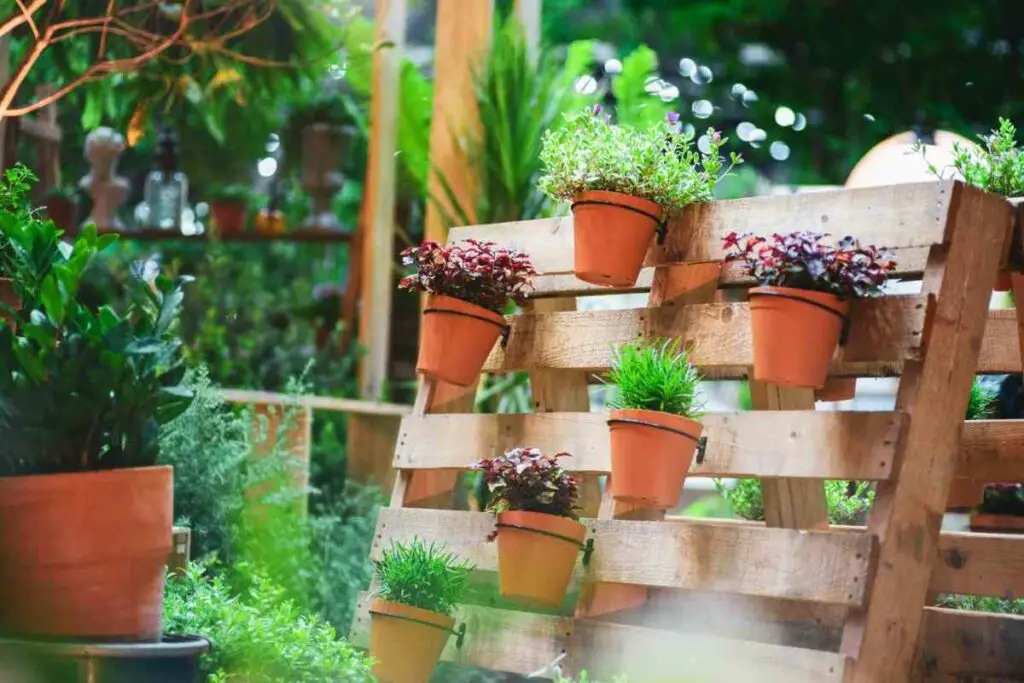 Idea 1: Pallet Planters 
If you're a keen gardener, you'll know that there's no such thing as too many places to put plants, and garden planters from pallets are reasonably easy to make. They look pretty, too! 
They are a particularly good way to use up scraps of pallets leftover from other projects, and you can make them any size that you want to. 
Simply cut across two struts of the pallet, leaving a join in between them so that you have a box.  
The plant will go in the gap in the center, although it is a good idea to line this with some heavy-duty plastic or some thick garden sacking first, to protect the wood from the damp of the soil when you water the plants, and to keep the soil in. 
With this done, you've got great rectangular planters that can be positioned anywhere. This is perfect if you want to grow lots of herbs, and it saves on the space wasted with circular pots. 
Idea 2: Vertical Gardening Space 
For those who are short on space but do have a free wall, this is a perfect opportunity to make use of it. You can simply screw your pallet onto the wall with some strong screws, and then use it to hang things on. 
Attach hooks to it and things like tools can be hung up neatly out of the way. You can also cut away some of the boards and add flat shelves to the pallet if you want to put pots up out of the way. Hang a little jar with a candle up, or add some ribbons, streamers, or even a bird feeder for some extra beauty.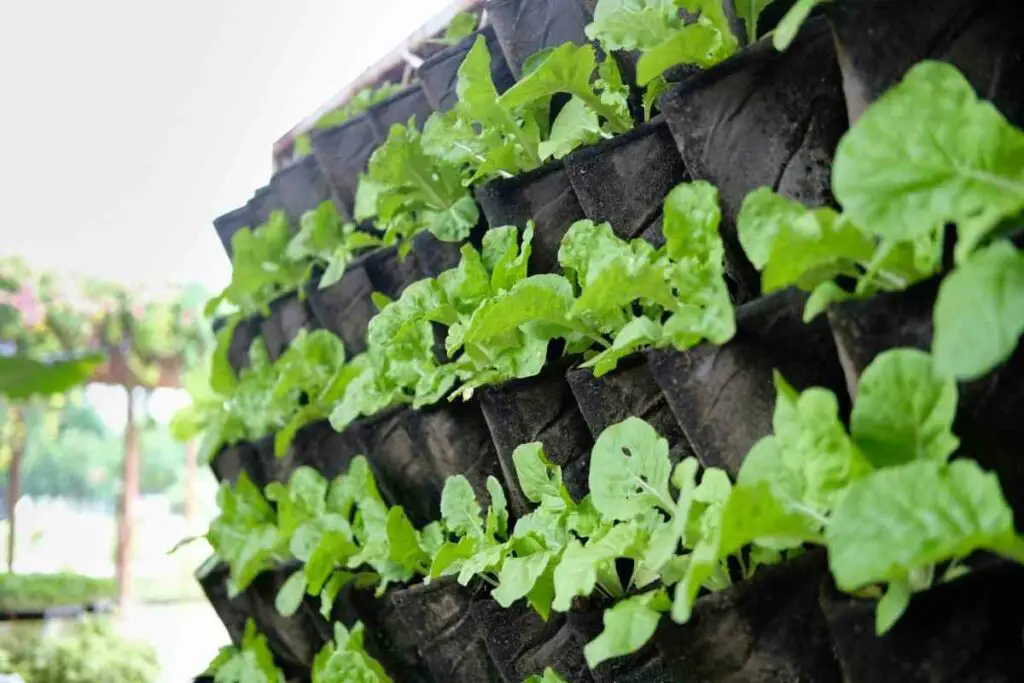 Idea 3: Pallet Potting Bench 
If you need a good space where you can pot up plants, a potting bench is reasonably easy to build and it makes gardening so much more straightforward. 
Simply place a board on top of the pallet to give yourself a flat working surface (or you will lose things through the gaps) and add some legs to the underside. The pallet will provide the strength needed, and if you cut one in half, you can use the other half to make a back and stop things from falling off. 
You can even hang some little hooks along this back so that trowels, seed packets, bits of string, labels, and other potting essentials have a place to live. Add some mini buckets for anything that won't hang up easily, and you've got the cutest potting station on the block. 
Idea 4: Raised Bed Pallets 
Those who want raised beds but feel a bit daunted about the idea of actually building them may find that pallets are the perfect solution. Simply layer some card beneath the pallets to stop weeds from coming up underneath, and then fill the slots between the pallet struts with rich compost and soil. 
You can add sides to the pallets if you need to, keeping the soil in. All you have to do next is plant them up. The structure of the pallet should keep the plants nicely spaced out and make it easy to tell what's what. 
Idea 5: Garden Bench 
You can whip up a beautiful rustic bench out of pallets with just a few screws and a lick of paint. All you need to do is paint some pallets and screw them together until they reach the desired height, and then use another pallet for the back. 
Add an armful of cushions and perhaps a rug, and you've got a great garden sofa for very little money. You can even add a matching pallet to serve as a coffee table for the best garden lounging experience ever.