Holly bushes – potted or planted – can make beautiful additions to your indoor or your outdoor decor. For the best possible plants, you'll need to make sure they have the correct amount of sun, water, soil, and care to thrive. 
This article discusses everything you need to know to raise healthy holly bushes in pots.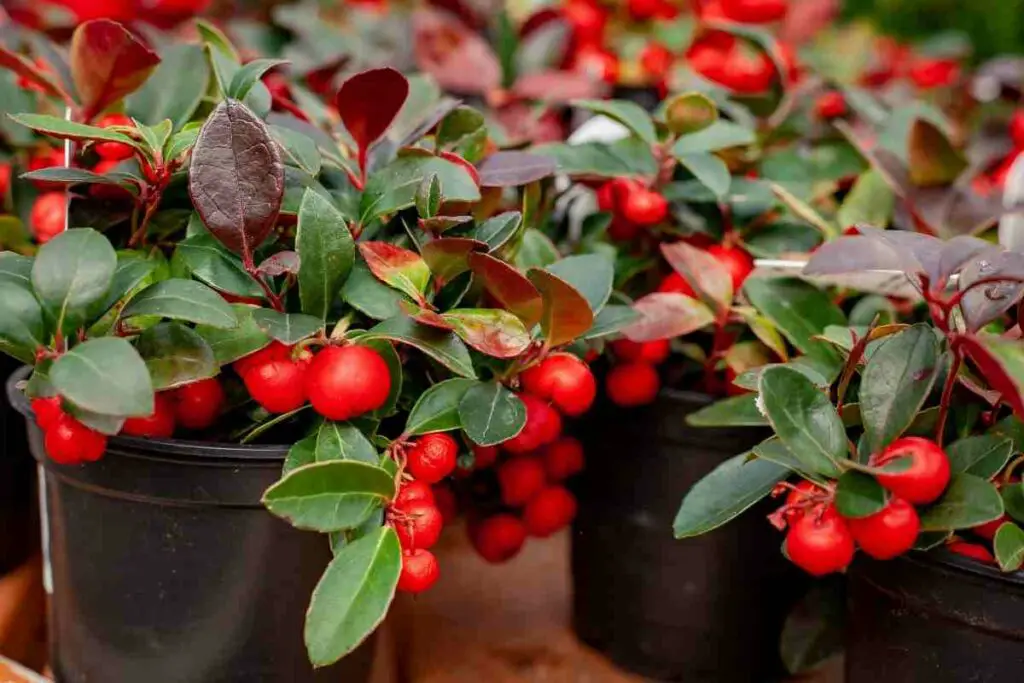 Holly Bushes in Pots 
Holly bushes – provided they're the right type for your space – can provide a nice touch of winter color inside or outside. 
With regular trimming and maintenance, these bushes do quite well in pots near windows and doors. 
If you're considering a holly bush in a pot, the first thing you'll need is the proper living space for them. 
What Type of Pot Should I Get For My Holly Bush? 
Plant enthusiasts recommend a pot that's at least 30 inches deep and 20 or so inches wide. A large pot with a drainage hole for excess water is ideal. 
Many experts recommend a plastic or resin pot to cut down on the weight for transport. 
If you decide to go with a heavier pot, you may want to consider some type of easy-to-move stand. 
How Should I Prepare the Pot for My Holly Bush? 
Once you have the right location, partially fill the pot with potting soil, preferably soil formulated specifically for bushes and shrubs. 
Moisten the soil slightly to keep the soil from leeching water from the plant directly after transplantation. 
Is There Anything I Need to Do With The Holly Bush Before Moving it to the Pot? 
Plant enthusiasts recommend giving your holly bush plenty of water 12 hours before you transplant it into the pot. 
When you remove the holly from the nursery container, make sure the roots aren't tangled together. Encourage them to loosen up if you feel they are too entertwined. 
Be sure your holly is planted at the same depth it was in its previous container. 
It's best to plant hollies in cooler weather. 
What Steps Should I Take Directly After Planting My Holly Bush in Its Pot? 
For the first week, some experts advise watering until the water begins to drain out of the pot. 
For the first week, it's recommended that your holly bush be watered to saturation point every day. 
After the first week, reduce watering to once or twice a week, unless you are experiencing drought conditions. 
Do I Need to Add Anything In Terms of Soil or Nutrients? 
It's recommended to add another layer of lightly packed potting soil once your holly bush is established. 
A light layer of mulch can help retain moisture and reduce the frequency and volume of necessary water. 
Do not add things like rocks, pebbles, bricks, or similar materials to the pot. They will only compact the soil and make it more difficult for the roots to grow. 
Can I Give a Potted Holly Bush Things Like Miracle-Gro? 
You can use Miracle Grow formulated for plants that require higher acidity in their soil to thrive. 
As a lower-cost option, you can also give your holly bush coffee grounds. Coffee grounds, used or fresh, will provide the necessary acidity and nutrients for your holly bushes. 
Other recommendations to increase soil nutrients include eggshells, compost, and bone meal mixes. All of these will provide minerals to help your holly bush thrive.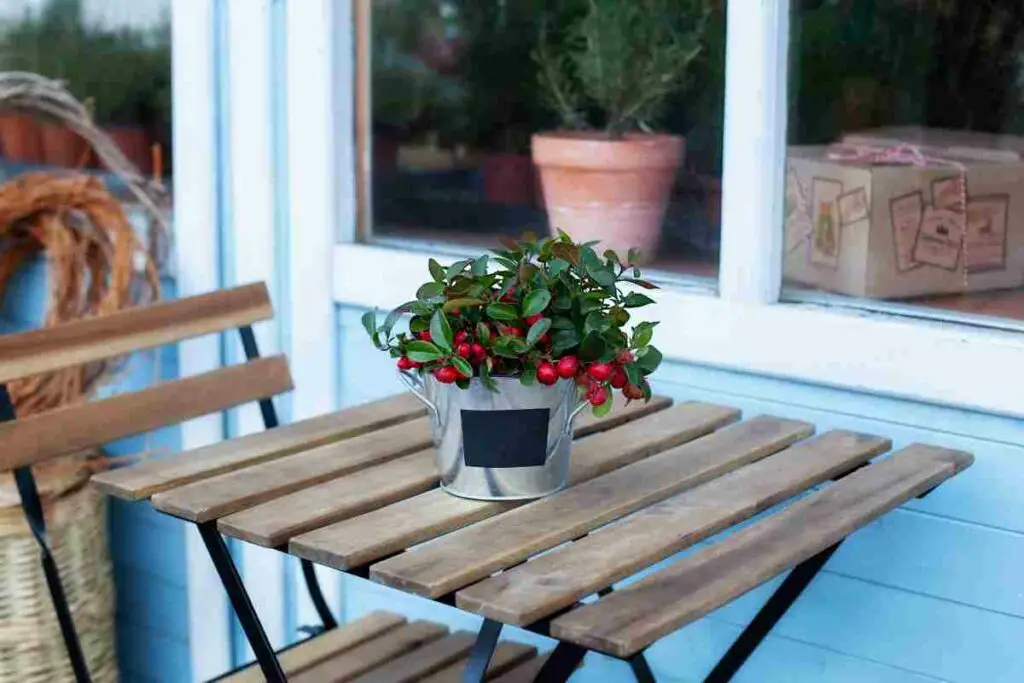 What Are The Best Locations for My Potted Holly Bush? 
Choose a location that gets plenty of sun. Experts recommend a location that gets at least 6 hours of sunlight a day. 
If you're considering keeping your potted holly bush indoors, look for a window that gets plenty of exposure. 
Outdoors, make sure your holly bush has plenty of room to spread out. 
What Other Conditions Are Important For My Holly Bush? 
Make sure you have the proper soil. Slightly acidic is best for holly bushes. 
Cooler temperatures are recommended. However, some experts say you should bring holly bushes inside or insulate them if temperatures are below 40 degrees. 
If you aren't certain about conditions, you can insulate your holly bush with a layer of mulch or by wrapping the pot. 
How Often Should I Water a Holly Bush in a Pot? 
Once it's established itself, the average time between waterings should be about a week. 
If you're in drought conditions, you may need to increase the frequency of watering. 
If you are uncertain whether your holly bush needs water, check the soil. Damp soil means the plant is fine, whereas dry soil means the bush probably needs water. 
Alternately you can use water gels or water retention products that allows water to be released slowly just in case you forget to water your holly bush.
Do Holly Bushes in Pots Need Trimming? 
A holly bush in a pot may need regular trimming for any number of reasons. It may be growing too large for its space, or need trimming to remain healthy. 
Experts suggest regular pruning to encourage new growth and remove any dead limbs and leaves. 
Holly bushes also don't like being moved after they're established, and regular cutting back is  a good way to ensure they don't outgrow their pot. 
When Is The Best Time To Prune My Potted Holly Bush? 
Experts recommend pruning in late winter or early spring when the plant is most likely to be dormant. 
You can also prune to encourage a thicker growth, or if there are indications of damage to the bush. 
How Far Should I Prune My Holly Bush? 
How far you cut depends in part on why you're pruning, and what kind of holly bush you have. 
A larger plant in a confined space, for example, may need frequent cutting back. A smaller shrub may need only light trimming once or twice a year. 
For basic trimming, you may consider clipping just above the new growth. 
If you're looking to rejuvenate the shrub, experts say you might want to cut it back almost to the ground. 
For basic pruning,  enthusiasts suggest trimming one-third of the bush's growth or less. 
How Do I Know For Certain How Far To Prune My Holly Bush? 
Make sure you know what type of shrub you have, and research what local horticulturalists recommend. 
You can also take cuttings, so you can replant if there is a problem.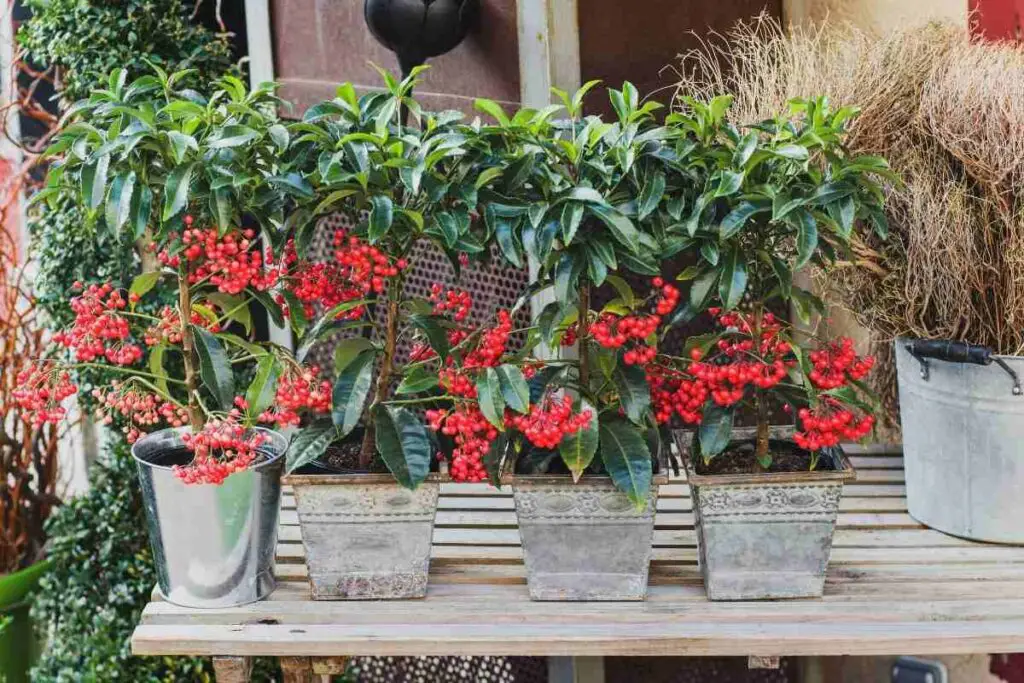 What Signs Indicate That My Potted Holly is Doing Poorly? 
Light yellow leaves or brown spots can be an obvious indicator. 
Another way to check is to scratch the surface of a branch. Green underneath the bark indicates the plant is still healthy. 
Brittle limbs or loss of leaves can also indicate a problem. 
What Do Brown Spots Or Lots of Falling Leaves Mean? 
The most common reason for brown leaves is weather damage. A cold snap or drought conditions can cause these signs. 
Insulation and pruning to remove damaged sections can help. 
What Does It Mean If My Potted Holly has Yellow Leaves? 
Most commonly, it's a problem with the nutrient balance of the soil. Too much water or too high a pH in the soil can cause this. 
If the soil is wet, or water is seeping out of the drainage hole, try cutting back the water. 
Otherwise, you can add specially fortified fertilizer with high iron content.
Is There Anything Else I Should Watch Out For? 
Bushes can sometimes develop holly leaf blight, the result of a fungus infesting the leaves and stems. 
If you suspect holly leaf blight, spray holly with fungicide, or a 1:9 ratio bleach: water mixture. Gather and destroy affected leaves and limbs to prevent spread. 
What Should I Do If My Potted Holly Bush Isn't Producing Berries? 
First, double-check what type of holly you have. Not all of them produce berries. 
Some holly types have male and female bushes. If your holly bush is one of these and alone, you may need to get another bush to see berries. 
Final Thoughts
There are plenty of benefits to holly bushes in pots, and properly cared plants have the potential to last for years.
If you're looking for a sturdy, relatively low-maintenance plant that can go indoors or outdoors, a holly bush in a pot might be an excellent choice.