There are many ways to store your lawnmower on your property. Most people choose to keep their mower in a shed or garage, but you can always make your storage system if you don't have one! You can construct sheds and hangers to optimize the space in your garage, plus more. 
There are plenty of DIY shed options available to you, so you can choose the one that works the best with the space you have at home. You may need to buy some materials, but you shouldn't need a lot.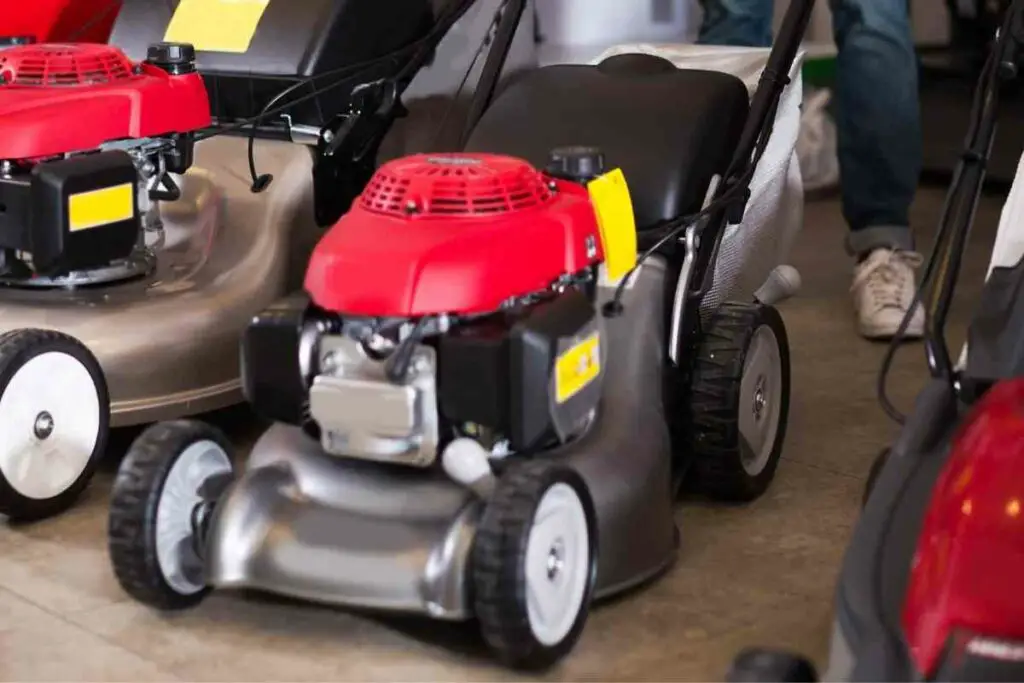 What are the Best DIY Lawn Mower Storage Units? 
Building a budget-friendly shed is easy. However, you can make it larger if you want more storage space. Keep in mind that you'll need more room to comfortably store a riding lawn mower when compared to traditional push ones. 
Construct a Mini Shed 
Mini sheds are a lot more expensive to buy than to build by yourself. You will need to have plenty of 2×4 boards since they make up a lot of the structure. You can use the following, but are free to cut the wood into different sizes to fit your shed: 
Two 4×6 skids 
Five 2×4 boards 
Two 1×6 boards 
Eight 1×4 boards 
Eighteen 2×4 boards 
One 4×8 sheet of ¾ inch plywood 
One 4×8 sheet of ⅜ inch plywood 
You also will need these tools: 
A nail gun 
A speed square 
A tape measure 
You will need first to build a foundation for the shed. You don't want to make it directly on the ground! You'll also need to confirm your local area's building code to determine what type of foundation will work for you. Every location has different requirements. 
The plywood makes up the walls and the 2x4s, which act as the internal beams. You also can keep the siding and roof simple or choose more complex designs. This How To Build a Shed video covers everything! 
Remember that you don't have to build the barn door that appears in the video. You can keep your shed as simple as you want for storing your mower and all of your tools. 
Create an Overhang 
You can also create an overhang to store your lawnmower under. You'll want to make sure that you use this in combination with a tarp to give your mower the best possible protection from weather damage. 
You can add the overhang to another shed or garage on your property. It works very well when your other storage space is too full for the lawnmower to fit. It's also a lot easier than you may think! 
You'll need to attach rafter extensions to the shed's rafters. Start by taking off fascia that's already around the existing rafters. Then, you can connect the overhang. Make sure you never make it longer than two feet, which is often enough space for many push mowers to sit under. 
Overhangs also provide better water drainage and keep the rain away from the shed. It's a great DIY project that shouldn't take you more than a few days to complete. 
Build a Large Shed 
If you think you'll need more space, or want to store your lawnmower with plenty of other tools, then you may need a larger shed. However, you won't want to attempt a large shed without the proper permits and experience. 
When creating a large shed, you'll need to follow these steps: 
Choose a flat area with plenty of space 
Construct the foundation and base 
Construct the frame, then fill it in 
Add the corner boards and the door gap 
Install the roof 
Attach the doors 
Add any final details 
It's a good idea to have some additional help when you build a large shed. Otherwise, it could take a very long time! 
Set Up an Outdoor Canopy 
Canopies are another great, cheap option for storing your lawnmower. They protect it from the outdoors but aren't the best choice if you need to winterize your mower. 
Still, they're convenient to use during the warmer months of the year and keep your mower within reach. 
You can find plenty of kits to build your own canopy online. They often include the frame and the fabric that goes over the top. You also have plenty of options for sizing- you can find smaller six by six feet sheds and large 12 by 12 feet sheds. 
If you want to buy the parts separately, you can easily set up your outdoor canopy as a DIY project. You won't need longer than an hour or two to set up, so it's one of the faster options for lawn mower storage. 
Overall, outdoor canopies make setting up DIY storage space very fast and don't take as much effort as constructing the shed from wood. 
How Can I Optimize the Space in a Garage? 
If you happen to have a garage at home, you'll need to know how to best use your existing space. You can start by decluttering and cleaning up the area. 
Next, you have a few choices for storing the mower. You can place it in a corner or keep it below an overhang. You can also build your shelf for a lighter mower for a weekend DIY project. 
The best option is to build a pulley shelving system in the garage for many. You can keep the mower above the floor for more storage space.  
You will first need to build your shelves, then gather the following items: 
Two rope pieces 
Two hooks 
Two rail track mounting bases 
Two tackle and blocks 
Build the pulley onto an overhang on the shelf. There, set up your two-rail track bases and use the ropes and hooks to lift the mower onto the frame. Doing so keeps your mower inside and out of the way. 
If you don't want to build a pulley and shelf system, you can always place the mower in the corner and set a tarp over it. A wall or ceiling hanger in the garage is another option. 
What Material Is Best For Sheds?
There are 3 main materials you can use to build your shed, Metal, Plastic or Wood.
Metal is a much stronger material but has the possibility of rush depending on the type of metal used.
Wood is one of the most conventional materials to build sheds and is popular for its versatility in terms of customization especially.
Plastic sheds are constructed from durable, high-quality materials such as vinyl or resin which makes them resistant to cracking, fading, insects, and so on.
To see a full comparison and guide on which is the best material to use check out here…